The subsystem is designed to record bonuses to customers, dealers on the following types:
bonuses from sales turnover (with the possibility of specifying a percentage for a separate item);
bonuses for payment;
bonuses per line in the invoice.
Description
Tasks of kinds of bonuses for counterparts.
The ability to automatically connect counterparties to the types of bonuses.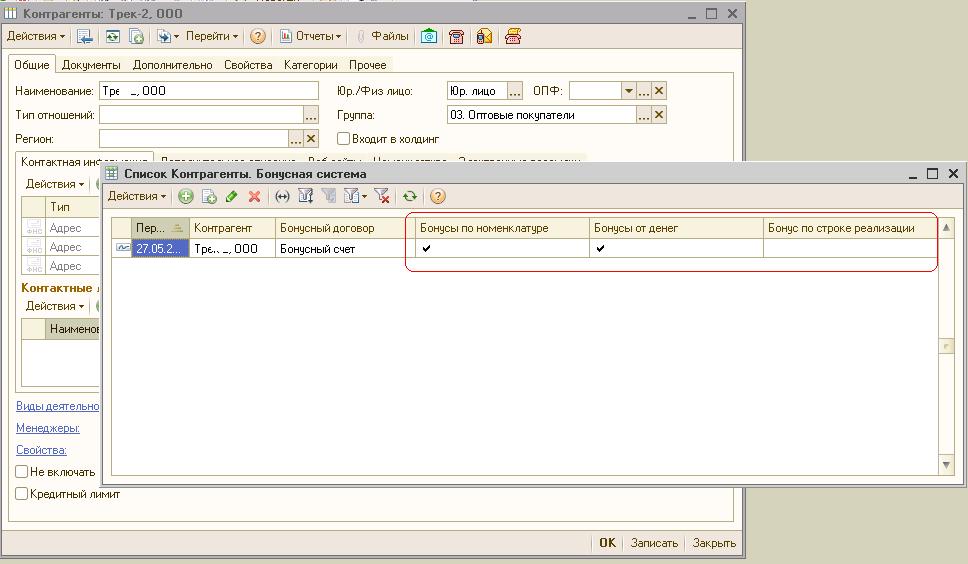 Ability to set bonus percent for selected items of the nomenclature so that bonuses are accrued to counterparties if the counterparty is connected to the bonus system "Bonus by nomenclature".
Bonus accrual to the counterparty for payment.
The payment order specifies the percentage of the bonus, there is the possibility of specifying an alternative recipient of the bonus. When conducting a payment order, the bonus is charged under the Bonus Account.

Bonus calculation for each line in the invoice.
Maintaining mutual settlements on bonuses
By mutual settlements, bonuses are paid for a separate bonus contract. Further, the accrued amount can be paid out with an out-of-pocket cash warrant or offset against the sale of goods or make a netting.
There is a possibility of crediting a bonus to another counterparty.

Report "Gross Profit"
The profit is calculated taking into account the accrued bonus.
The module is compatible with configurations on conventional forms:
Managing a trading enterprise;
Production plant management.
Our company developed other types of accounting bonuses, more complex.
The cost of this module: 8000 UAH (excluding the cost of implementation in the configuration of the customer).


Developer: NCT